About Us
First Time Users
Introducing Sigma Staff
Welcome to Sigma Staff.
We are a human resource agency providing temporary staff and recruitment services under the umbrella of the Sigma Group.
Employment Opportunities with Major Companies
Workplace opportunities
Nursing Care Facilities
Daycare Facilities
Hospitals
Clinics
Call Centers
Government Offices
Corporate Offices
Food Processing Plants
Career Opportunities
Caregiver
Nurse's Aide
Medical Assistant
Hospital cleaner
General Office Assistant
Light Work
Find My Job!
Assisted Living Facility Caregiver
Eldercare in senior homes and daycare facilities. Responsibilities may include:
Physical caregiving, including bathing, feeding, toileting, and changing the client.
Housekeeping and laundry.
Mental caregiving and companionship, including sharing conversation and other activities with the client.
Keeping a long term caregiver's log.
Daycare Caregiver
Caring for clients in their homes. Responsibilities may include:
Physical caregiving, including bathing, feeding, toileting, and grooming the client.
Housekeeping, including cleaning the client's living space and doing their laundry.
Mental caregiving, including providing the client with conversation.
Nurse's Aide
Supporting nurses in hospitals and clinics. Primary responsibilities include:
Daily living support including sanitary care, feeding, bathing, and grooming clients.
Basic nursing, including changing bedding.
Administrative Assistant
Performs secretarial work in business or government offices. Duties may include:
Creating materials
Recieving telephone calls
Providing customer service
Scheduling
Administration
Contact Center Operator
Respond to inquiries at call and contact centers. The operator may respond by telephone, email, or chat, depending on the business.
Light Work
Work that doesn't require computer skills, usually in a food processing plant, factory, or office.
How Sigma Staff Human Resource Services Works
About the Three Types of Contract Sigma Staff Provides
Temporary Staffing
Three elements make up Sigma Staff Temporary Staff Services: staff (you), the dispatching agency (Sigma Staff), and client companies.
Temporary staff contracts are different than full-time, contract work, and part-time contracts.
Staff is contracted to a client company by the dispatching agency, and follow a clear chain of command on the job. The dispatching agency will provide the staff's salary.
Temporary to Permanent Placement
Temporary to permanent placement is available upon fulfillment of a direct employment contract for a specified period of up to six months, at which time a full-time contract may be available if the client company and staff agree on terms and conditions.
This arrangement allows the company to observe the staff's abilities and aptitudes, preventing a potential mismatch between the company's needs and the staff's ability.
Temporary to permanent placement differs from temporary staff placement in that that the client company can choose to interview and screen the candidates prior to placement.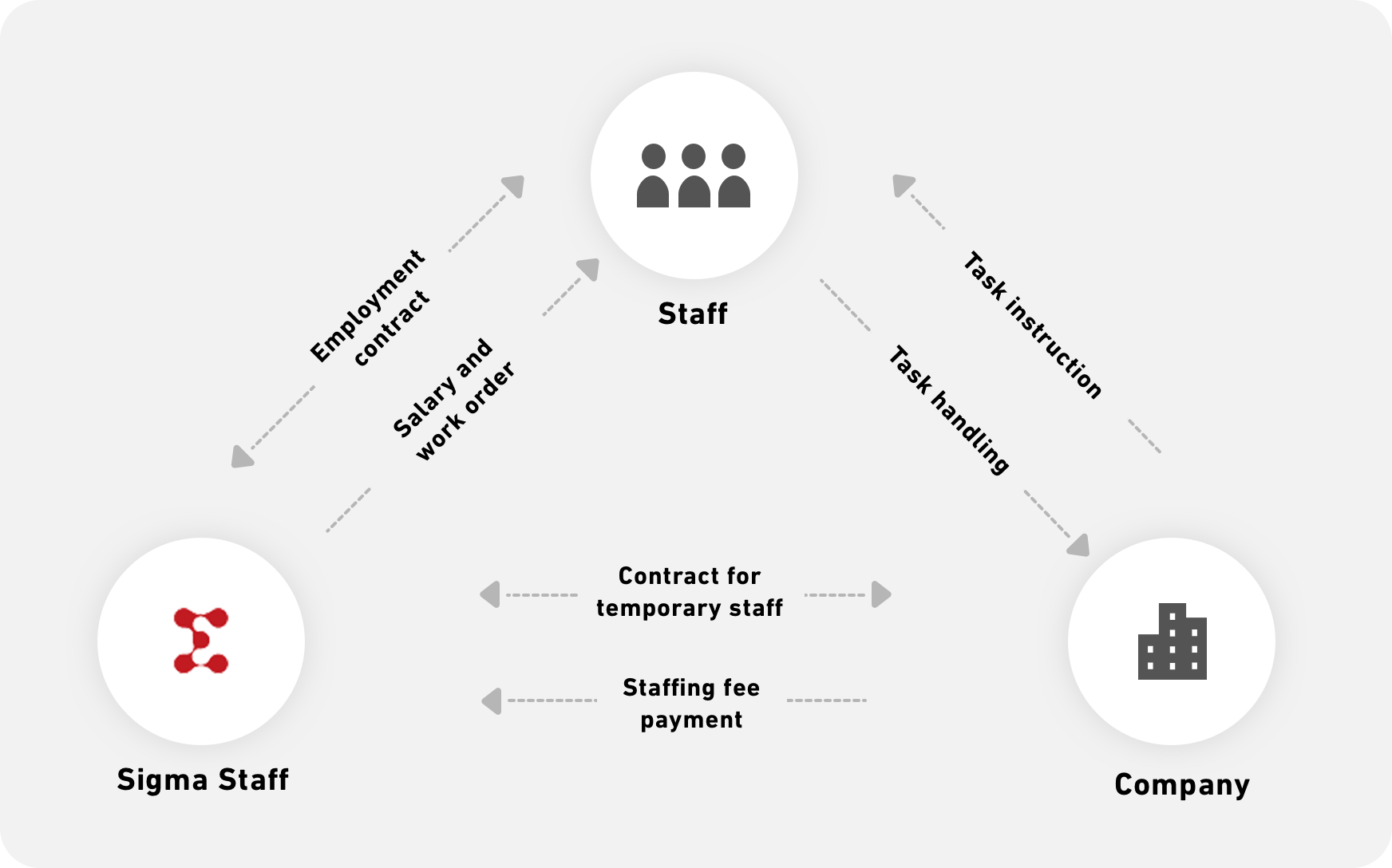 Associate completes the contract and both parties agree to continue working together.

Job Placement Services
We will support you in finding the right job.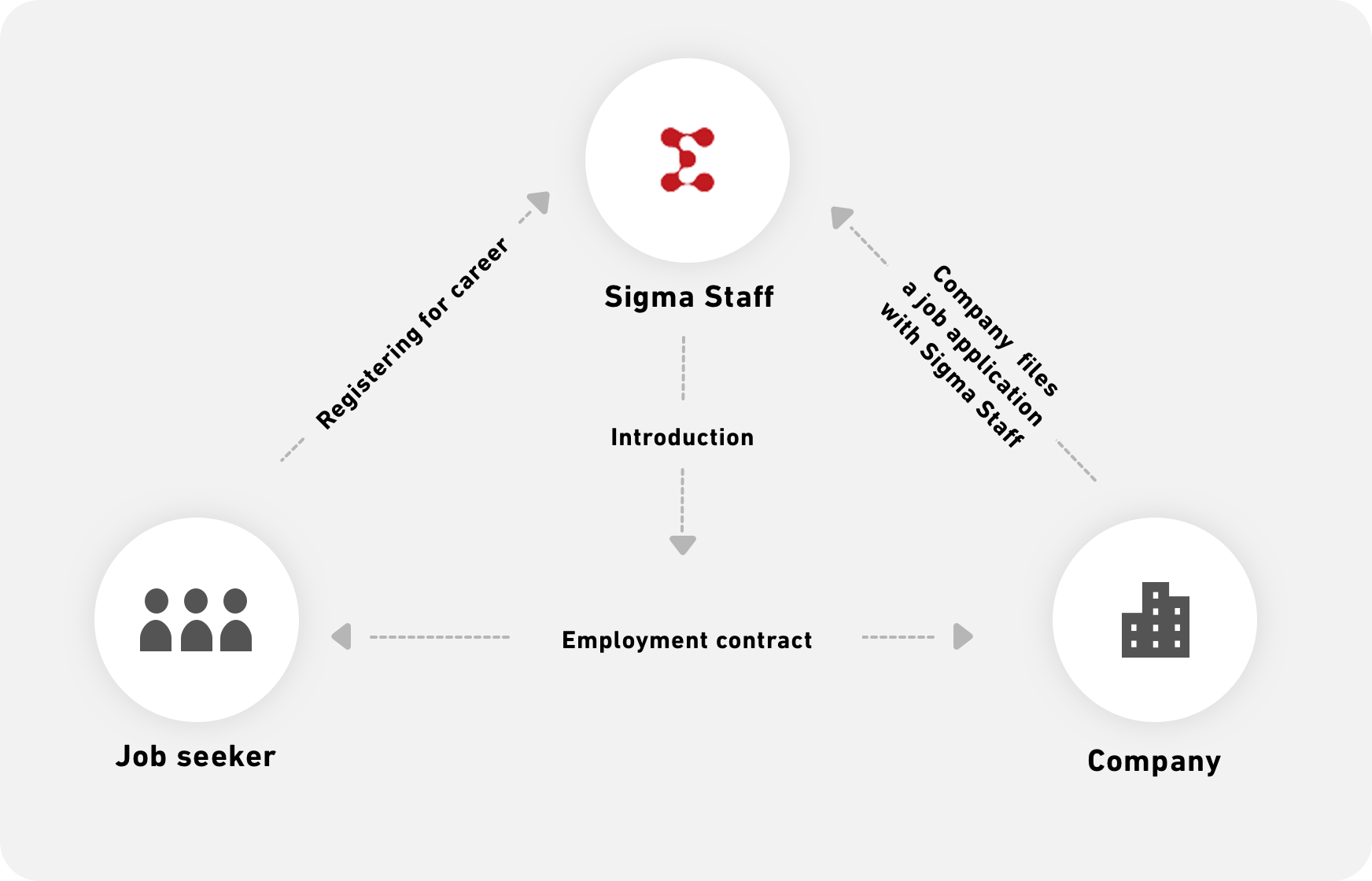 Important information from the Ministry of Health, Labor, and Welfare
From Registration to Employment: How It Works.
Your first step is registering with Sigma Staff.
Once you've registered, we can start searching for the job best suited to your needs.
Registration is free of charge.
Reserve a Consultation

If you found Sigma Global on Facebook, let us know if you would like to register from there.
If you are interested in a specific kind of job, and are fluent in reading, writing, and speaking Japanese please contact the branch you hope to work with directly and make an appointment to register.

Job Listings

Registration

If you found us through Sigma Global, please complete this ?online registration form.
A representative will contact you shortly.
If you can speak, read, and write Japanese click the button below to register.

Take me to the Japanese site

Job Placement

Once you have registered, go to Job Placement.
Our coordinator will go through possible jobs with you and explain working conditions at the client company including location, duties, and salary. You can feel free to ask the coordinator any questions you may have.
If a job matches your needs, let the coordinator know and then proceed to the next step.

Workplace Tour

You may be able to take a tour of the workplace in which you are interested. Not available for all jobs.

Starting Work

If you have any issues or concerns once you start your new job, please contact your coordinator at any time. They will be happy to support you.